Go Alabama Slim!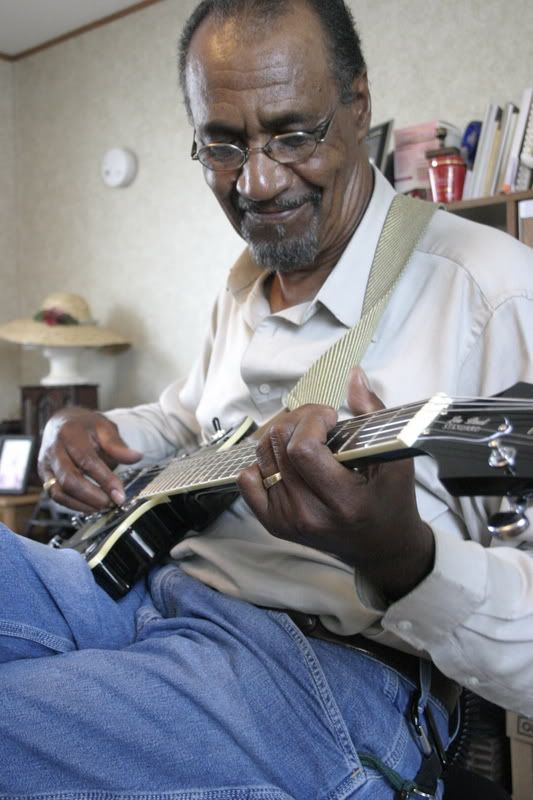 I just realized that I never posted any information in here about Alabama Slim. He's a New Orleans blues musician that received the Music Rising guitar purchased by a group of supporters this past February. I was honored to present it to him in June, and have stayed in touch with him ever since. He's a talented artist that has been playing for years, and following his displacement after Katrina, his work has been supported by the
Music Makers Relief Organization
.
I spoke with him today to find out the good news that he's been back in the studio recording. The guitar was with him too, and he said that it sounded so, so good. :)s
I'd like to share my experience about meeting him here, and invite you to visit
For Music Rising
to learn more about the work with fellow supporters in buying the guitar. Please be sure to check out more about
Alabama Slim
at Music Makers too. Scroll to the lower right corner to hear a sampler of his music. Thank you.
June 9, 2007
Nao, Grace and I arrived in the hot, melting afternoon sun. Alabama Slim greeted us outside his home, and after our introductions I took the guitar out of the car. "Oh yeah!" he said without hesitation, and Grace and I gave it to him right away.
Before we knew it we were inside, the guitar was out of its bag and hooked up to an amp. As we got comfortable on the couch, Alabama grabbed a guitar strap, a guitar tuner, and kicked right in. My heart raced because I was so excited to hear him play. Everything was becoming a reality.
Wow, it sounded amazing from the first chords, and as he played more he enjoyed more. It appeared as if he was getting reacquainted with an old friend. He had lost his 335 Epiphone in Katrina, and it became obvious very quickly that this guitar was in the right hands. He truly appreciated it without saying one word.
Here's a ninety second snippet from early in the set. Grace was running the show with the camera, so you'll hear a tiny bit of her too.